5 Questions to Ask Before Installing a Security Gate
As burglaries become increasingly common, homes and businesses have begun seeking solutions that provide safety for residents and employees and security for valuable goods. Regardless of what you're hoping to protect, taking steps to ensure your peace of mind is always worth the investment.
You should set up your first line of defense at the perimeter of your property. Installing a security gate is an ideal way to give yourself control over which individuals can access your home or business. This article explains the five questions you should ask before choosing which option is optimal for your situation.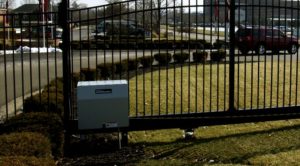 1.      Level of Security Do I Need?
Not every property will require a security system that rivals Fort Knox. Generally, most homes or businesses just want something to deter criminals from trespassing. However, if you're living or operating a business in a high-risk area, you may want a more substantial gate that prevents criminals from entering if they attempt to break in.
2.     Do I Need an Electronic Gate?
Electronic gates put the power in your hands. It's a modern security standard used to protect commercial properties such as apartment complexes and large industrial buildings, but it can also be used at the entry point of residential driveways.
We utilize the best brands in the business for electronic gates, like LiftMaster, to ensure your system is durable and reliable, with little maintenance needed after installation.
3.     Do Looks Matter?
Like fences, security gates also come in several styles, colors, and materials. Depending on the location of your gate, the aesthetic appeal could be a factor in your decision.
For example, if you intend for customers to enter your business's property through a security gate, you may want to consider installing something that looks good while keeping you protected. This is also the case for homeowners installing a fence to secure a residence.
4.     Are My Needs Permanent or Temporary?
Believe it or not, construction site theft is a serious concern for builders, contractors, and investors. Thieves will try to take advantage of the situation if expensive machinery and valuable materials get left out in the open.
Installing a security gate is a proactive measure that keeps workers and valuables safe until the project is complete. It also helps avoid construction delays if important components like copper piping get stolen.
5.     Is Telephone Capability Necessary?
Electronic gates with telephone access give you total control over who can enter your property. If you're regularly providing access to guests, this feature makes the entire process much more convenient. Visitors can call an employee or security officer through a system attached to the gate, who can then use their discretion to grant or deny entry.
Need to Secure Your Property? Get a Free Consultation
We're committed to protecting your home, business, or property by offering a secure first line of defense.
To discuss your security gate and other fencing needs, call us at our Cincinnati Showroom (513-631-0333) or our Northern Kentucky location (850-485-6655). Visit the contact page on our site for details on how to get in touch online.