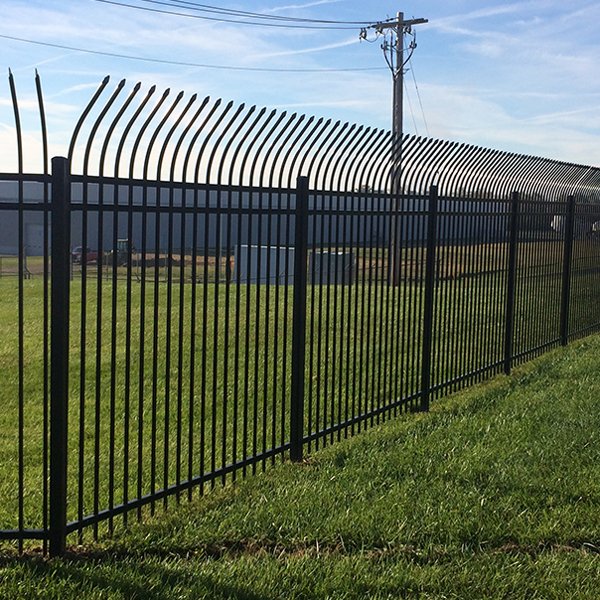 When it comes to fencing their properties, business owners have a decision to make.
On the one hand, they need their businesses to look welcoming, trustworthy and inviting to potential customers. On the other hand, they need their properties to be fenced and secure so that thieves and vandals stay away.
The solution is an attractive security fence – the perfect balance between safety and aesthetic appeal. When you need a fence for your business, call Mills Fence Co., the top commercial fence provider in Cincinnati, OH and Northern Kentucky.
Quality Fences for Your Business
Since each business is unique and each business owner has different needs, we provide a variety of security fences. From chain link fences to gates, interior cages and attractive commercial aluminum and steel systems, we create custom security fences to meet your needs. We also offer a wide variety of top of the line temporary construction fences to ensure that your construction site is safe, secure, and controlled.
View the images below to learn more about each type of fence available. View our selection in person by visiting our Cincinnati, OH or Walton, KY showroom.
Our Aluminum security fences are perfect for companies trying to retain a welcoming aesthetic while efficiently dissuading any potential thieves and intruders. You can upgrade your aluminum security fence to include full monitoring systems and electronic gate systems to fully automate your business security.
Chain Link Security Fence
A chain link security fence is perfect for non-client facing sections of your business. From warehouses to back areas and construction sites, chain like fences provide the ultimate in security for a price that you will love. You can upgrade your chain link fence with privacy paneling or barbed wire toppers to fully maximize your security potential. We also offer a wide variety of temporary construction fences perfect for any construction site.
Automate your security system and fully protect your business with a beautiful gate. Gates allow you to block off certain areas like parking lots and entryways to make it more difficult for invaders to get easy access to your company.
Copper pipes and external systems like heating and cooling systems are common targets for thieves. Protect your valuables with a sturdy and beautiful enclosure.
If you have questions or are interested in scheduling an installation, contact us to schedule a free estimate today. For our Cincinnati, OH location call 513.631.0333, or for our Northern Kentucky location call 859.485.6655.

Contact
Mills Fence Company | OH 513-631-0333 | KY 859-485-6655
Hours | M – F:   8 a.m. – 4:30 p.m. | Saturday: Open 8 a.m. - Noon | Sunday: Closed
Credit Cards Accepted | We accept ALL major credit cards