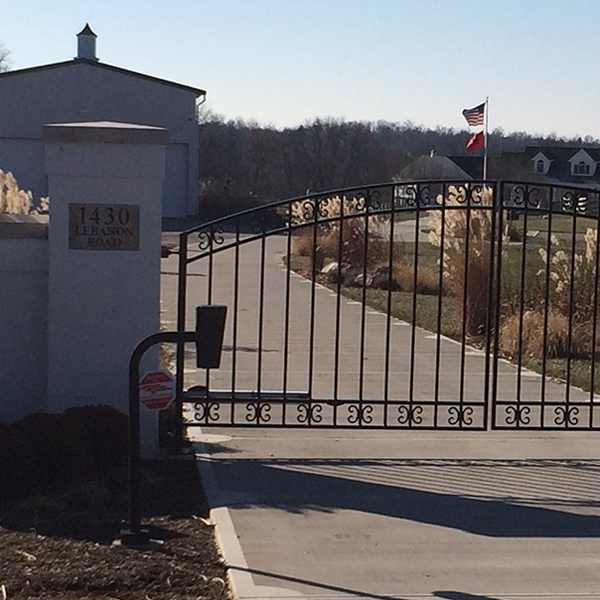 ELECTRONIC GATE OPERATORS IN CINCINNATI, OH AND NORTHERN KENTUCKY
Mills Fence Co. does more than supply and install sturdy fences. We  also offer electronic gate operators and entry systems that ensure your fence only opens for authorized individuals. These products enhance safety and ensure privacy at your Cincinnati, OH or Northern Kentucky property.
Secure Your Fence With an Electronic Gate Operator
The team at Mills Fence cares about providing you with a fence that does its main job:creating an impenetrable perimeter that protects the people and property within its border. But of course you need to get in and out with ease. Automatic and electronic gate operators make that possible.
In the Cincinnati, OH and Northern Kentucky area, we sell and install several types of Lift Master gate operators. Lift Master is a trusted name in the security industry,and we're proud to feature their products. We know these gate operators open and close reliably,and they work with various fencing materials and designs.
Electronic gate operators are suitable for many locations, including:
Enhance Your Fence with an Entry System
Does your property require more than a gate operating system? We also offer entry systems that help you welcome specified parties into your property-and keep out those who aren't granted entry. For example,a telephone entry system lets visitors contact a specific house or  apartment within a community and request entrance.
Even if you feel unsure about what entry system you desire, you can trust our experts to offer advice while allowing you to make the decision on your own. We draw on the experience we've acquired over 45 years in the business to share our knowledge with you.
Request a free quote from Mills Fence Company today. In Ohio, call us at 513.631.0333, and in Kentucky, reach us at 859.485.6655.
If you have questions or are interested in scheduling an installation, contact us to schedule a free estimate today. For our Cincinnati, OH location call 513.631.0333, or for our Northern Kentucky location call 859.485.6655.

Contact
Mills Fence Company | OH 513-631-0333 | KY 859-485-6655
Hours | M – F:   8 a.m. – 4:30 p.m. | Saturday: Open 8 a.m. - Noon | Sunday: Closed
Credit Cards Accepted | We accept ALL major credit cards