Patio Railings and Enclosures in Cincinnati, OH & Kentucky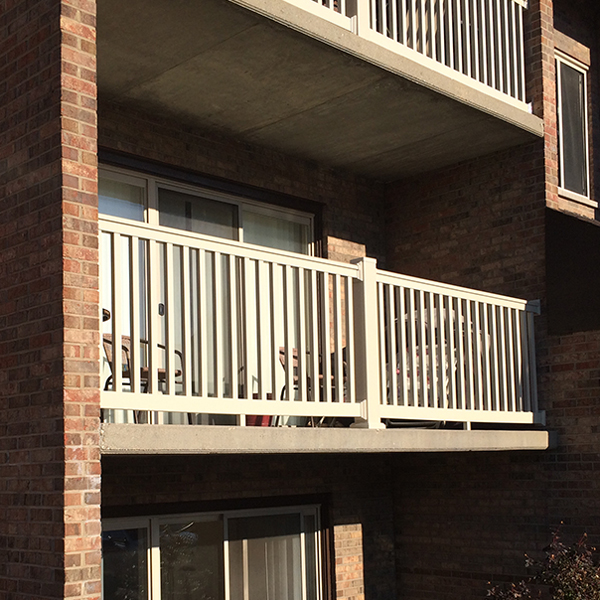 PATIO RAILINGS & ENCLOSURES
Serving the Tri-state Area
A patio is a wonderful addition to any home, giving you the freedom to enjoy fresh air and sunshine with virtually no effort. That said, railings are necessary if you want to keep your patio safe. In addition to preventing you and your loved ones from suffering a dangerous fall, railings are great for hanging bird feeders, giving you a place to lean as you watch the sunset, and adding visual appeal to your home.
Mills Fence Co. provides patio enclosures to homes all across the Tri-state, Cincinnati, Kentucky, and Indiana. If you want to upgrade your patio with patio railings service, we'll be happy to help.
Types of Railing
You have many different types of railing to choose from. Consider the following options:
ADA railings. The Americans with Disabilities Act (ADA) gives guidelines on how to make your home accessible to differently abled individuals, and our railings support this.
Patio railings. Your patio is an integral and unique part of your home, and it will reach its fullest potential with railings designed with this in mind.
Porch railings. As opposed to patios, which are located in a more private part of the property, porches are front and center, and the railings have a greater need for stability, style, and durability.
Stair and ramp railings. Railings for ramps and stairs are designed to give people of all body types a comfortable and secure support while they climb.
Balcony railings. Balconies are particularly high and thus have a greater need for height and strength.
Mills Fence Co. has served Cincinnati, OH, and the surrounding areas for 50 years. Our skilled technicians are dedicated to keep you safe and to enhancing the style and functionality of your home's outdoor space. If you want to learn more, give us a call today at 513-631-0333 for our Ohio office or 859-485-6655 for our Kentucky office.
To better serve your needs, we provide railing and enclosures made from a variety of materials, including:
If you have questions or are interested in scheduling an installation, contact us to schedule a free estimate today. For our Cincinnati, OH location call 513.631.0333, or for our Northern Kentucky location call 859.485.6655.

Contact
Mills Fence Company | OH 513-631-0333 | KY 859-485-6655
Hours | M – F:   8 a.m. – 4:30 p.m. | Saturday: Open 8 a.m. - Noon | Sunday: Closed
Credit Cards Accepted | We accept ALL major credit cards