PATIO RAILINGS SERVICE AND ENCLOSURES in Cincinnati, Oh & Kentucky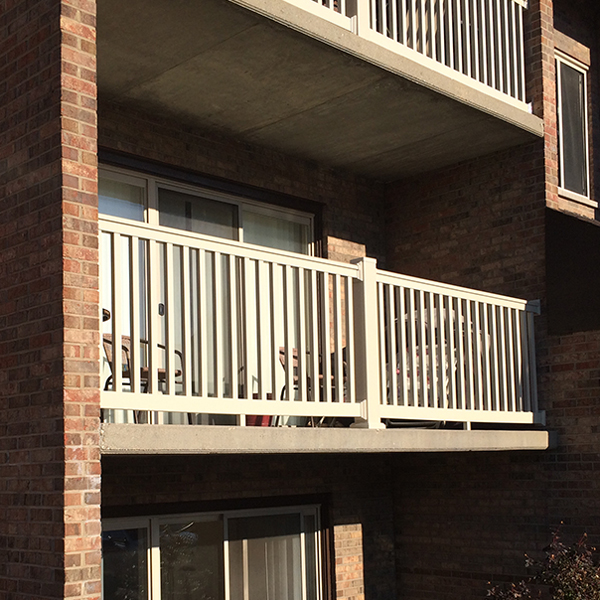 PATIO RAILINGS & ENCLOSURES
Serving Ohio, Indiana and Kentucky
Railing and patio enclosures help your home or business stand apart from other buildings in your area. If you'd like to make your building's exterior more appealing, or if you want to separate your outdoor dining patio from the sidewalk, there are numerous options available, including patio enclosures for your Cincinnati, OH or Northern Kentucky property.
As a family owned and operated business, we understand that you strive to maintain the appearance of your building. Since 1970, we've provided residents and business owners with durable products for stairs, ramps, balconies and porches. In addition, we offer ADA compliant railing for schools, businesses and public buildings.
Our skilled technicians have more than 30 years of industry experience, so you can rely on us to do each job right. And because we strive for your satisfaction, we offer a one-year warranty on our work.
To better serve your needs, we provide railing and enclosures made from a variety of materials, including:
If you have questions or are interested in scheduling an installation, contact us or fill out our inquiry form to schedule a free estimate today. For our Cincinnati, OH location call 513.631.0333, or for our Northern Kentucky location call 859.485.6655.

Contact
Mills Fence Company | OH 513-631-0333 | KY 859-485-6655
Hours | M – F:   8 a.m. – 5 p.m. | Saturday: Open April - October 8 a.m. - 12 p.m. | Sunday: Closed
Credit Cards Accepted | We accept ALL major credit cards