4 Overlooked Products Every Commercial Property Needs
The place you conduct business deserves to look professional and function properly day after day. Investing in your property means investing in your livelihood, and thoughtful preparation can help you prevent issues both today and several years down the road.
These four products highlighted in this article provide additional privacy protection, aesthetic appeal, and insurance against accidents.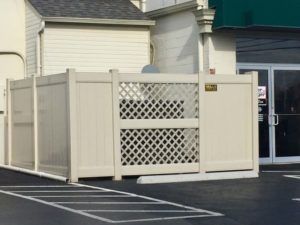 Dumpster Enclosures
Right or wrong, the appearance of your business's property sends a strong message to potential customers. Concealing your trash disposal area, whether it's a single dumpster or a collection of trash and recycling cans, helps keep garbage where it belongs – out of sight!
Aside from the visual considerations, a dumpster enclosure prevents unwanted pests from making a mess and can keep unwanted eyes off documents that should remain private.
Concrete Bollards
A wise man once said, "An ounce of prevention is worth a pound of cure." While we're pretty sure Ben Franklin wasn't talking specifically about concrete bollards, the sentiment still applies.
Installing a few brightly-colored barriers around valuable equipment, such as electrical boxes, light poles, or even the building itself, provides an extra line of defense that helps prevent expensive accidents.
A split second is all it takes for a distracted driver to cause significant damage to your property. Not only are repairs costly, but they're also a headache that could have been avoided with a little extra preparation.
Flagpole
No matter which colors you choose to fly, adding a flagpole to your commercial property gives it a distinguished look that helps grab the attention of drivers who may be interested in your services. Not to mention, flying the hometown team's flag is always good for business.
A properly-installed flagpole lasts for decades with minimal maintenance requirements needed along the way, making it an ideal investment in your business.
AC Enclosures
Air conditioners and other HVAC equipment are crucial for the comfort and safety of your employees. While functional heat and AC systems are often taken for granted, when they're damaged, not much work is getting done until things are fixed.
Although their built to withstand the elements, stray rocks, grass, dirt, and even small animals can wreak havoc on your system. Even when damage doesn't cause it to break down completely, debris can interfere with your equipment. That means efficiency suffers, and energy bills get higher. Finally, an enclosure protects your system from thieves looking to steal valuable copper components from AC systems.
We're Here for Your Business
Mills Fence has been supplying businesses with sturdy, dependable commercial fencing products for more than 50 years. We've built our stellar reputation in the community through our dedication to quality work and a commitment to customer service. No matter the size or scope of your project, we have the experience to get the job done right the first time.
To discuss your commercial fencing needs, call us at our Cincinnati Showroom (513-631-0333) or our Northern Kentucky location (850-485-6655). Visit the contact page on our site for details on how to get in touch online.