Which Fence is Right for You?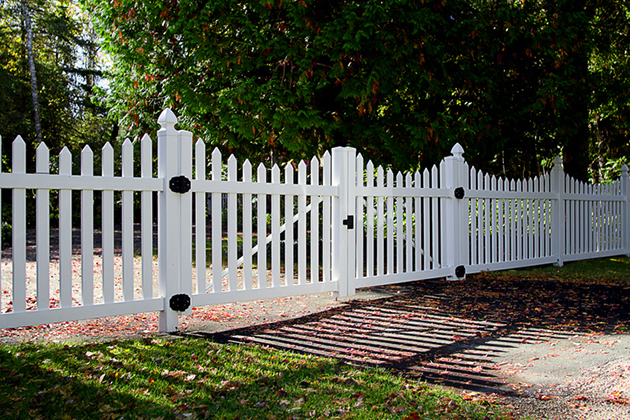 Choosing the right fence for your home or business can be hard. With so many different styles and materials to choose from, finding the perfect fence has never been more complicated. If you have no idea what kind of fence you want, we are here to help you. The first step in choosing the right fence is establishing a budget. Once you have an idea on how much you want to spend, get in contact with one of our estimation specialists here. Simply fill out the form, set up a time for us to meet you, and we will provide you with a variety of fencing options that work for your budget. If you want to learn more about which fencing material is right for you, read more about some of our most popular options.
PVC
PVC or vinyl fences are a perfect option if you are looking to simplify your fencing maintenance without sacrificing quality, budget or aesthetic appeal. These affordable fences come in a variety of different styles including a wide selection of privacy fences, classic straight rail, crossbuck fences, and even beautiful picket fences. PVC fences offer all the style and beauty of classic wood fences while drastically cutting down on maintenance time. Every piece of PVC fencing is resistant to mold, rot and natural deterioration that you would experience with wood. The only maintenance that you need to do with your new PVC fence is to hose it down a few times a year. If any moss or discoloration occurs on your fence, simply take a pressure washer and lightly brush away the discoloration. This discoloration should wash away very easily and only need to be cleaned off every few years.
Aluminum
Aluminum fencing is quickly becoming a modern classic for any property looking for an upscale look. Not only is aluminum fencing extremely affordable but it is built to truly thrive in the outdoor elements. Unlike iron, aluminum doesn't rust, which means that your fence will look brand new through rain, sun, sleet and snow. At Mills Fence, we offer a wide variety of colors ranging from the ever-popular black all the way through green and white. This fencing also comes with a lifetime warranty from the manufacturer as well as our own one-year warranty for materials and labor. If you are looking for a classic and beautiful fence that will last for decades, aluminum fencing is perfect for you.
Wood
If you are looking for a classic fence and you don't mind taking on a bit of maintenance, nothing is quite as beautiful as wood. A wood fence gives your home or business a classic look that is as timeless as it is beautiful. Unlike PVC and aluminum fencing, wood fencing will require some maintenance, especially after a few years. You can choose from privacy fences to Kentucky board and beautiful custom options. With wood fences, you can choose everything from wood type to stain and paint color to fully customize your fence.
If you are looking for a new fence for your home or business, don't settle for second best. Trust the expert fencing team here at Mills Fence to build you a beautiful fence that will last for decades. You can rest easy knowing that your beautiful fence is in good hands with our elite team of builders and specialists.