Get The Perfect Fence For Your Sports Facility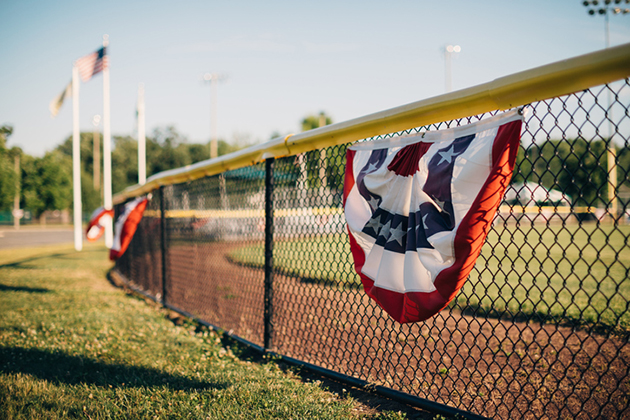 Here in the tri-state area, we take our sports seriously from junior high school through college. When you think of any outdoor sport from football to tennis, the first thing that comes to mind is probably not the fence that surrounds it. The reality is that when people come to play, the aesthetic of your field can make a big impact. Everything from the lines on your tennis court to the fence design in the outfield can make a huge difference in the overall look of your field. If you are looking for a new fence for your school, baseball field, or tennis court, let the expert team here at Mills Fence Co. help you get the perfect fence for your space.
Baseball Fields
The perfect baseball fence is made up of three main components: a chain link backstop, a dugout fence, and a surrounding waist-high chain link fence. The most beautiful and functional baseball fields have a unified theme to their fences. From the clean and simple look of a traditional metal chain link fence to fully painted and customized fences, you can get as creative as you want with your design with the help of the team here at Mills Fence Co. Our fences provide unmatched quality and durability for your field, with teams of repair specialists ready to roll in case of tree, storm, or rust damage. We have installed some of the most beautiful baseball fences in the tri-state area and proudly stand behind each of our projects.
Tennis Courts
Tennis is a sport of prestige, with prominent tournaments like Wimbledon, Rolando Garros, and the US Open. No matter where you are installing a tennis court, from a country club to a high school, the prestige of the sport should shine through in the design of your space. The material that you choose for your court can vary widely from clay surfaces to turf, which will help you decide how to build around your space. The traditional look of practice courts and semi-competitive courts is for them to be surrounded by a 10-12 foot tall chain link fence. This fence lets onlookers and spectators watch the game safely while keeping the court clear and secure for the players to enjoy. Our teams can help you quickly and easily install your desired fence regardless of whether your space is in a park or a competitive arena.
Schools & Recreational Facilities
Schools are some of the most important places for us to keep safe. We want to make sure that our children and the younger members of our community are protected and safe, but don't feel locked in like a prison. We offer a wide variety of affordable options for schools and recreational facilities including chain link fences, PVC picket fences, aluminum security fences, and much more. These fences will help secure your space and clearly delineate borders to keep unwanted intruders from coming in at unmonitored areas.
No matter what space you are looking to secure or section off with a fence, we have an option that will work perfectly for you. For the past 50 years, Mills Fence Co. has proudly installed some of the most beautifully functional fences in Kentucky, Indiana, and Ohio. Contact us to schedule your estimate today to see just how much money you could save with the fencing experts here at Mills Fence Co.