4 Fence Products to Consider for Your Rental Property
where. Purchasing a rental property can be an excellent investment that generates a consistent monthly revenue stream. However, once you've taken over ownership of the land and building(s), it's essential to protect your new asset. Even more importantly, you should prioritize security and provide residents with a safe place to live.
Adding a fence around the perimeter of your rental property makes any space more desirable for tenants. Additionally, it helps keep unauthorized visitors at a safe distance. If you've been considering adding a fence, railing, or gate to your rental property, this article can help you determine which options are best for you.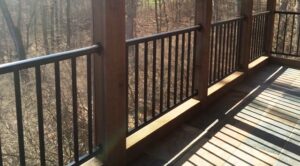 1.     Low Maintenance Aluminum Fencing
Aluminum is an ideal fence material when you want something that can handle the elements while still providing an aesthetic benefit. In addition, aluminum doesn't rust (unlike iron), saving you countless hours of maintenance.
Another primary concern for property owners is cost. While you never want to cut corners and install inferior materials, overpaying is inadvisable when a less expensive option that doesn't sacrifice quality is available. Aluminum is built to withstand extreme weather conditions and won't break the bank, making it a win-win choice for nearly all property types.
2.     Electronic Gate Fencing
Everyone wants to feel safe in their home. Depending on the location of your property, adding an electronic gate as a barrier to entry can give everyone the peace of mind they deserve. Not to mention, a secure space is more valuable, and you can generate additional ROI through slightly higher rental rates.
Mills Fence provides and installs several types of Lift Master Gate operators that give you total control over who has access to your space. In addition, they're compatible with many different fencing materials and designs, giving you increased flexibility during the installation process.
3.     Patio Fences and Railings That Are ADA-Approved
When you're liable for injuries on your property, "safety first" takes on a whole new meaning! Though you may not typically worry about stairs or balconies as potential health hazards, securing these areas as much as possible is wise to protect residents from an accidental fall.
If you're new to rental property ownership, it's worth noting that The Americans with Disabilities Act has its own set of guidelines on how to make your home safe and accessible to specific individuals. Our team is well-versed in this area and has railings that fulfill legal requirements.
4.     Enclosures
No matter the price range of your rental property, you want residents to feel like they're in a respectable place. If there are exposed dumpsters or other trash areas visible, renters may start to look elsewhere.
Installing an enclosure or privacy fence to block trash receptacles from view can improve the look and feel of your space. Additionally, it may discourage animals from scavenging through the trash and causing other issues associated with uninvited wildlife. If you need clarification on what products are best for your needs, one of our commercial fencing experts can provide you with a recommendation based on your goals.
Ready to Begin Your Fencing Project? Let's Start Planning
For decades, Mills Fence has helped property owners protect their property by installing an affordable and durable fence. No matter your situation, our team of experts can help you get the job done efficiently. That means on time and according to your specifications.
Get in touch with a Mills Fence representative today to learn more about our full range of products and services and start planning your fence installation. You'll quickly see why we've been the most trusted name in the industry throughout the Tri-State area for more than 40 years.